Uncover the wisdom to move gracefully
through life while dealing with the
many day-to-day challenges we face.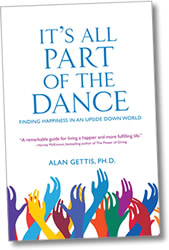 Alan Gettis, Ph.D.
, is the author of the Award winning The Happiness Solution. Well here's more of the solution. It's All Part of the Dance will help you:
feel happier and be more relaxed
improve your relationships and enhance the quality of your life
feel encouraged and be more resilient
find purpose and meaning and move gracefully through life
"Through many firsthand experiences and insightful stories, Dr. Gettis gently shows us that by changing the lens to our perspective, the quality of our lives can improve dramatically. A delightful read and an abundance of easy-to-use, take-away nuggets to last a lifetime!" - This is what Emme, author, women's advocate TV personality and pioneering supermodel says of Alan Gettis' latest book.
This book will be important to you.




~ Donald A. Wilhelm, author of This Time's a Charm: Lessons of a Four-Time Cancer Survivor

Full of insight and passion, It's All Part of the Dance is a great gift to each of us.




~ Harvey McKinnon, bestselling author of The Power of Giving

A road map to living the fulfilled life.


~ Dr. Aymee Coget, CEO of The American Happiness Association

When you give someone a book, you don't give him just paper, ink, and glue. You give him the possibility of a whole new life.




~ Christopher Morley, novelist, journalist, poet

Order your own copy of
It's All Part of the Dance today!